Who I Help
I help you, the chronic skin disease sufferer, to reduce your flares and improve your confidence by work alongside me to uncover why your skin decided to act out. We will reverse the dynamic together, instead of you just continuing to pour money and products on your skin in the hopes that they soothe it temporarily.
I know that other health professionals don't underatand skin well and have not been able to sort out, explain, and have often belittled your symptoms. It's totally normal and expected to be at your breaking point, fed up feeling this way. I help will help you get well, and stay well through inspiration, education, and empowerment.
How it Works
We will work intimately together over a series of months in my completely personalized transformative health program. It starts with an immensely detailed conversation about your entire health history in order to get your "full picture" (when has your medical provider ever had the time or patience to do that?!?!). Then some unique individualized laboratory testing will be drawn and reviewed. These steps are crucial to customize your comprehensive, but completely manageable wellness plan that will fit into your insanely busy life. It will be composed of lifestyle changes and natural treatment modalities to synergistically help you achieve your personal and career goals.
What You'll Get
All of me!
Ready for a supportive partnership and friendship with your compassionate and experienced functional medicine provider? I sure hope so! This is the ideal health model.
Gone are the days of wasting money and time on specialist appointments to be dismissed without an explanation or a solid treatment plan. I'll help you identify the root cause of your symptoms which will empower you to implement changes in your life on the solid path to regaining your health. I am confident that you will feel the best you've felt in a long time, maybe even ever!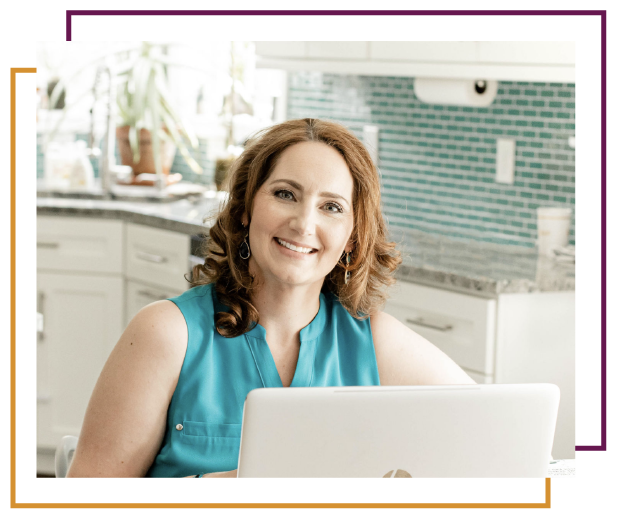 This sounds amazing, but how does this all REALLY work? I have NO extra time!
You will receive my undivided attention with regular communication via email and regular calls to help implement your customized, well-rounded, fail-proof protocol that fits your life, your nutritional profile, your unique genetic makeup, and any underlying conditions you are already dealing with. This program is intentionally personalized for you to ensure its success. Overwhelm not invited!
"As a healthcare professional, it was hard for me to think outside the box of the conventional medicine I had always known.  However, after almost 2 years of autoimmune symptoms and no answers, I had to do something.  That's when I met Lauren and decided to give functional medicine a try.  I had no idea how many toxins were in my life - from the food we eat to everyday products. Even the things I thought I was using to be healthy turned out to be full of toxins.
Lauren helped guide me to not only recognize what toxins I was putting in my body, but also how to make simple changes to remove them. I'm forever grateful for Lauren's continued guidance throughout this journey.  She has provided me the knowledge and tools to ensure I am doing everything in my power to keep my family healthy and safe!"
-Liz E.
"Lauren has been very helpful in helping me to transition to a healthier lifestyle. She introduced my best friend and I to essential oils. That was just the beginning! What started with essential oils transitioned into non-toxic living and how we could replace the chemicals we were using in household cleaners and beauty products. Through the whole journey Lauren has been encouraging and patient. She pushed me when I just wanted to give up. I am thankful for Lauren's passion and determination to see others achieve their goals! We started as acquaintances and have become friends over this journey."
- Heidi F
"I have known Lauren for several years and in that time she has helped me connect with a healthier lifestyle. She has been an encouragement, given guidance, and taught me ways to get past limiting beliefs. She has helped me to brainstorm business ideas and been a coach for my growth in self confidence. She believed in me when I couldn't believe in myself. Thank you Lauren."
Bridgette K.
"The guidance I have received from Lauren has been life changing. She taught me how to navigate a healthier life, for which there has been no greater feeling.  As a breast cancer survivor with multiple sclerosis, I was a prisoner to the pharmaceutical industry for many years but knew that life was not for me. I can guarantee that having Lauren Zajac on your side is like having a personal life trainer. She has a genuine passion in the true health of women and their families-a winning combo. Lauren deeply cares, and spends the time to get to know you and your health needs intimately. She will assist you in every step, aiding in healing your physical and emotional health. The tools she has recommended allowed me to finally take ownership of my own health and wellbeing and take control of my life again.  I feel empowered and  healthier every day since beginning this journey with her over seven months ago."
Stephanie S.
"Lauren's commitment to her family and entire community's health is unparalleled. She's taken what life has thrown at her and used it to empower others to take control of what we can. There's no judgment either which is refreshing - she's there to support you no matter where you start or what your goals are."
-Jen M.
"Lauren has a passion for wanting to help the community as a whole. She is able to connect with people on an individual level, validating their concerns. She always gives wonderful suggestions without judgement and eases my worries, and follows up in a very timely manner. It makes me feel connected with her even after the concern or issue is resolved. I know I can always count on Lauren for help!"
-Denise H.
"When Lauren and I met we instantly bonded over functional medicine. As a former teacher I'm always yearning to learn more and optimize my health and wellness, boost happiness, and live my best life. Lauren has the medical background and understands so much about optimizing nutrition and the inner workings of hormones. She has helped me really fine tune my health and reduce my toxic load! My father died of liver cancer due to non-alcoholic fatty liver, his diagnosis was labeled as automotive toxins. I promised myself would live a non-toxic life when he passed. Lauren has held my hand through this journey!"
-Jessica R.
"Lauren's impact on my life started with a simple request for ideas on keeping mosquitos away from myself and my toddler, without chemicals. That simple moment has grown into feeling a "safety net", someone I can turn to with questions regarding giving my child and my family a cleaner lifestyle. We have learned so much! I have switched to organic produce, swapped my family's health and hygiene products for clean alternatives, and continue to watch her updates so I can learn and make more informed choices for myself and my family. What started with a simple request has turned into, what I feel to be, the most beneficial relationship regarding health and safety I have ever had. There's never pressure, just friendly suggestions and updates, and so much education. Lauren continues to inspire me to do better. Every word is the truth. I just wish I would have known her sooner! Thank you for all you do. I can't wait to continue this journey."
-Kayla O.